In My Mailbox is a weekly meme hosted by The Story Siren
, which allows bloggers to share what books they've borrowed, received in the mail or bought in the past week.
Yayyy :) I totally loved this one! Now I must go out and buy the second and third books!
I finally came out of my little hole (exams have forced me to dedicate all my time to studying :/), & decided to go study at the library SHOPPING with friends! Couldn't resist this when I saw it at Big W! So cheap!
This sounds like such a fun read! A vampire who gets stabbed by a unicorn horn? Definitely looking forward to it!
Okay, I don't know whether I won this or received for review? So yeahh...if you're reading this, Lisa, please confirm? That aside, I can't wait to read all these awesome short stories!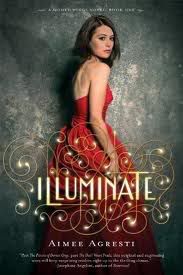 Illuminate by Aimee Agresti (Thank you
Houghton Mifflin Harcourt!)
OMGOMG ASDIOSUDOAIUDSOIAUDASOUOI!! This totally made my day!!!! I was so excited when I received this in my inbox! Thank you so much Rachel!Can't wait to start this!!
What did you get in your mailbox? Leave Links :)