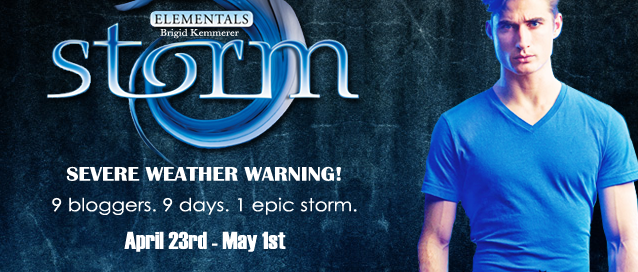 Hey Everyone! Welcome to the second stop of the long-awaited STORM blog tour :) Today (or tomorrow- depends where you live :P) is the official release date for Brigid's magnificent YA debut! HOORAY! *throws confetti* Are we all excited? Make sure you go and grab a copy today, because this is definitely one of the best 2012 debuts :) (It's certainly one of my all-time favourites!)
I hope you've all stopped by
Lisa's blog
where she interviewed the three main characters from
Storm
- Chris/Hunter/Becca. (It's hilarious, by the way! I, for one, couldn't stop laughing!)
Now, I hope you're all giddy with excitement to meet the smokin' hot Merrick brothers & Hunter because they're here today for a quick This/That quiz! Read on :)
This/That
McDonald's or KFC?
Hunter: KFC
Chris: McDonald's
Hunter: This is why we don't get along.
Chris: No, we don't get along because you're a tool.
In a girl, do you look for:
Cute or sexy?
Nick: Hi. Both. (Shirley: HI NICK!)
Gabriel: Depends on the day.
Blondes or Brunettes?
Chris: Brunettes
Gabriel: Don't care, as long as she's cute and sexy.
Shy or Outgoing?
Hunter: Outgoing
Nick: Shy
Eyes or Mouth?
Gabriel: Mouth
Chris: I'm not even going to follow that.
andd...just because I can't resist asking:
Aussies or American?
Gabriel: I still don't understand why "both" isn't an option for any of these questions. Especially at the same time.
Hunter: It depends on the girl, not the country.
I know ALL of us FEMALE bloggers will be dying to know this one! Soo…
Boxers or briefs?
Chris: You can't seriously expect us to answer that.
Gabriel: Here. We can pin Chris down so you can look.
***
Did you enjoy that? Don't you just love how Chris & Hunter banter all the time!
And isn't Chris adorable?!? (He's hot, but...*pinches cheeks*)
*GASP* Did you read NICK's response to the shy/outgoing question? HE PREFERS SHY GIRLS! *jumps around* Wow, I never thought the day would come when I'm actually glad I'm shy :)<3
Here's the rest of the schedule! Make sure you stop by everyone's posts, because there are some truly spectacular exclusives you don't want to miss!
Wednesday 25th April:
Fantasy Casting -
saz101
Friday 27th April: Keeping up with the Merrick Twins + Review Roundup - Badass Bookie
Tuesday 1st May: Guest Post by Brigid: Five Secrets of the Elemental Series - Amaterasu Reads
Giveaway
There are 14 PRIZE PACKS up for grabs!
*GASP* That's a lot, right?
And yes, it's both Aus & International! :)
Check the list of prizes
HERE
: